'Greek Yarmouth'
Written by the Literature teacher Michalis Mihail - Hadjitofi and translated from the original Greek text by Florendia Yiannoullou, which first appeared in the Eptakomi magazine in 1998.
Great Yarmouth is a seaside town with a population of 80,000 in Eastern England. It is a distance of approximately 140 miles from London.
For the people of Eptakomi Yarmouth is known as the 'other Eptakomi', while for the English it has long been famous for its kippers which, until recently, were not only sold around England but all over the Mediterranean and the Middle East.
In 1913, 1,163 fishing boats caught 900,000.000 kippers! Towards the end of 1950 however, fishing began to lessen due to the dwindling stocks. By contrast, tourism began to develop.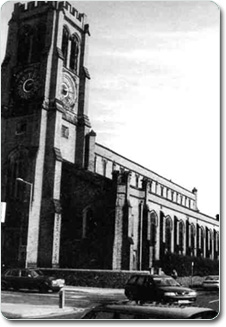 St. Spyriadonas the Greek Cypriot church of Great Yarmouth.

Now Great Yarmouth is the most famous family seaside destination in Eastern England. It offers a wide beach known as the 'Golden Mile' which is full of restaurants, guest houses and amusement arcades.
The sea front is called Marine Parade and the restaurants and guest houses owned by people from Eptakomi are to be found at the heart of this road. The other restaurants are situated on the main road called Regent Road. It is true to say that nowhere else in England are there so many restaurants owned by Greeks situated in one place; not even in Haringay and Green Lanes where there is a community of over 200,000 Greek Cypriots.
Nearly all the restaurants in Marine Parade or Regent Road, now belong or have been handed down by the Cypriots of Great Yarmouth; or rather the Eptakomites'.